Find the right accommodation for your next holiday with your partner can be a daunting task, especially if you are looking to surprise and impress them with a spontaneous weekend away. Yet, this needn't be the case. Cottage Gems specialises in listing luxury self-catering rentals and, as such, it is the ideal place to search for a romantic holiday home. Cottage Gems knows how luxury and glamour can go hand-in-hand with romance and because of this we have tried to make our search assistants and site layout as user-friendly and intuitive as possible for couples. To help make this selection process easier Cottage Gems has compiled a list of useful tips and advice for choosing your next couples cottage.
Filter Search Results
Potentially, there are thousands of properties to sieve through before you find the one that suits you. So that this elimination process doesn't take weeks and weeks, be sure to use an online search assistant. Cottage Gems' search assistant can filter out results that don't match your specific criteria so that you only see results which fit your needs. This assistant will help to save you a lot of time and will make everything far less daunting. All sorts of requirements can be filtered in and out of a search assistant so you won't miss out on that perfect property.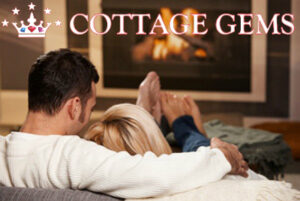 Check Facilities
The facilities and features found in your property home can really add that extra bit of glamour and style to your romantic holiday. With facilities ranging from private swimming pools and hot tubs to games rooms and sports facilities, there are many ways to make your trip that extra bit more special and memorable.
Location
Cottage Gems has properties which are found in all kinds of wonderful locations spread throughout the UK. From coastal cabins to countryside barn conversions and much more, there is a wide range of settings to choose from, and choosing correctly can make a huge difference to the romantic tone of your trip. A holiday, for example, in a secluded rural area in an Area of Outstanding Natural Beauty can be the ideal romantic setting. Alternatively, something to your partners specific preferences (e.g. loves being by the sea) could be considered. Nearby restaurants and attractions should also be brought into the equation because, regardless of how lovely a location and property may be, tensions can quickly arise if you are miles from absolutely anything (or maybe that is exactly what you want, the choice is yours!).
Be Romantic
Cook a surprise meal, buy some flowers and wine, watch the sun set from the warmth of your private hot tub, be romantic during your holiday. A holiday can only feel as romantic and enjoyable as you make it at the end of the day, and should be used as a time to bond or re-connect with your partner. With a self-catering property you have the best setting possible for this bonding, with the option to prepare your own food, live in privacy in a secluded setting, and enjoy a range of top class facilities.