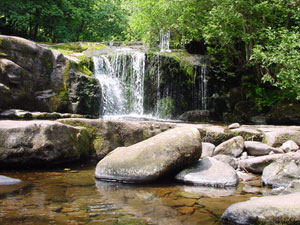 Summary of what the Brecon Beacons has to offer for Luxury Cottage Breaks

The Brecon Beacons is a stunning mountainous and hilly National Park situated fairly centrally in the South of Wales. A luxury cottage stay in the Brecon Beacons is likely to appeal to those looking to spend lots of time enjoying the great outdoors. The National Park is home to some awe inspiring scenery and wildlife, plenty of activities and of course wonderful things to see, perfect for a relaxing self-catering luxury break. The park has its own great history and heritage, its own cuisine, culture and traditions which make it an even more interesting place to stay. The Brecon Beacons range, in its truest sense is a collection of mountains to the south of Brecon; these include 6 mountains that form a long ridge. They make a wonderful place to take part in pony trekking, walking or hiking as you get to appreciate some spectacular views from the peaks of the range.

The history of the Brecon Beacons includes an extensive and very interesting heritage from the Neolithic standing stones that are over 4,000 years old to the Roman bases that arrived in 43AD. There are also many hill fort sites and ruins from the Iron age period and presence of the Norman Conquest with its beautiful castles and castle ruins. Also as far back as the 16th century the Welsh were laying the foundations for the industrial age and evidence of this is found at Blaenavon Ironworks. So with so much history it is no wonder that the Brecon Beacons is brimming with fantastic sites for you to visit and explore.

Top tips on Quality Food and Dining Out in the Brecon Beacons
The amazing foods available in this area of Wales make a luxury self-catering holiday easy in terms of getting your food together for your break. Farmers markets held throughout the area in places such as Abergavenny and Brecon sell extremely fresh produce ready for you to try and then buy. Mountain lamb, local beef, Welsh venison and smoked products will be all the rage at these fantastic markets. You can also experience some new local cheeses as well as award winning cider, apple juice and delicious ice cream. On the other hand if you dont feel like cooking whilst on your luxury cottage stay there are many fantastic restaurants available in the Brecon Beacons such as Peterstone Court, Black Mountain Lodge Restaurant and The Castle in Llandovery.
.
Places of Interest and Tourist Attractions in the Brecon Beacons
When looking for places to visit and wonderful attractions to spend the day enjoying, the Brecon Beacons has a vast collection of exciting things to enjoy and places to visit whilst on a luxury cottage stay. As mentioned before, the Brecon Beacons has a rich history and therefore boasts an extensive collection of fabulous historical sights to visit such as Careg Cennen Castle, Abergavenny Castle and Brecon Cathedral as well as many standing stones, forts and Cairns. If youre looking for exciting attractions for the whole family to enjoy then Brecon Beacons can also provide entertaining attractions for children including taking a trip on a steam train, exploring a coal mine and visiting one of the amazing castles in the Park.

Recommended Activities to enjoy on a Luxury Cottage Break in the Brecon Beacons

If that still doesnt keep the family happy then there are always plenty of great activities for people of all ages to get stuck into such as guided walks, caving, climbing, horse riding, kayaking, fishing, sailing, windsurfing and geocaching which is a global treasure hunting game for the whole family.

Add an extra touch of luxury...
You dont just have to settle with having luxury self-catering accommodation, why not add an extra sense of luxury to your whole trip and enjoy a hot air balloon ride of the spectacular Brecon Beacons? You could also take a flight over the park from your very own hand glider or even take a helicopter tour of the area.

More Places of Interest and Tourist Attractions:
There are lots of places you can go in the Brecon Beacons including The Hay Makers, Waterfall Country, Upper Usk, Cerrig Duon- Stone Circle, Brecon Cathedral, Talgarth, Battle stone.
Whatever you decide to do on your luxury holiday, whether you plan to enjoy lots of activities or simply take it easy, we hope that you find good quality luxurious accommodation that fully meets your expectations.