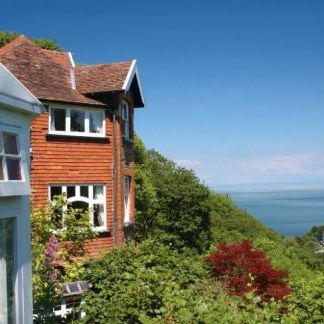 This fabulous holiday home is located on the stunning North Devon coastline in an Area of Outstanding Natural Beauty with stunning views of where the Exmoor National Park meets the coast. With 10 bedrooms, this house is well suited for large group holidays. Whether you are planning a corporate break away, a family celebration, an anniversary party, stag or hen party, this could be the perfect place for you.
The accommodation is of high quality and the house benefits from being nestled amongst woodland and gardens, giving it a sense of privacy and exclusivity. What's more, with views of the Exmoor National Park could you really wish for more? All in all there are some 2 acres of grounds at this great holiday home.
Show availability and pricing information
Facilities:
Parking
Garden
Balcony/Patio

Towels & Bedding:
Bed linen provided
Towels provided

Special Facilities:
Wood stove
Open fire
Internet access

Amenities:
TV
Video or DVD
Microwave
Coffee Maker
Dishwasher
Freezer
Bath
Shower
Central heating
Laundry facilities

Lynton
Lynton is located near the north coast of Devon at the edge of the Exmoor National Park. Lynton is a small town offering holidaymakers a chance to to relax and unwind amongst beautiful and peaceful surroundings.