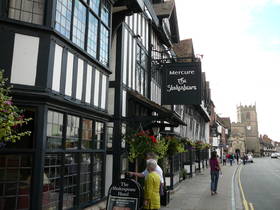 Things to See and Do on a Luxury Cottage Holiday in the Heart of England

The Heart of England region covers a vast expanse of English counties and towns including Herefordshire, Worcestershire, Shropshire, Staffordshire, Warwickshire, Birmingham, Coventry and the Black Country. Particularly popular places to visit for a luxury cottage holiday within the Heart of England include Stratford-upon-Avon, the birthplace of William Shakespeare and Warwick with its famous Castle. Situated in the centre of England, the Heart of England counties offer a variety of experiences and landscapes as well as the opportunity to really see what makes England tick. Easily accessible because of its position in the centre of England, the wonderful history and heritage locations such as Stratford-upon-Avon, the Cotswolds and Warwickshire provide visitors with a great insight into Englands past. You can also discover film locations from Harry Potter and inspirational places for people such as Tolkien, George Elliott and of course the legend William Shakespeare.


There are plenty of smashing attractions and places of interest in the heart of England to enjoy visiting whilst on a luxury cottage holiday, as well as a diverse collection of activities and sports to get stuck into and enjoy. Visit the beautiful cathedrals in Coventry, the stunning castle in Warwick or take a trip to visit the birthplace of Darwin, Shrewsbury in Shropshire. You can also discover some of the best cider in the world in Herefordshire, have a relaxing fish on the banks of the river Severn in Worcestershire or enjoy blood pumping rides at Alton Towers or Drayton Manor Park in Staffordshire.

Walking and cycling in the Heart of England is definitely an experience, nature enthusiasts and country loving visitors can enjoy a wonderful stroll through any of the counties in the heart of England safe in the knowledge that they will experience some stunning scenery and breathtaking landscapes. There is also the opportunity to experience the heart of England on horse back, take a hot air balloon ride or enjoy a new sport and try something different with lots of water sports. There is something for everyone to enjoy, of all ages in the heart of England. Staying in a luxury self-catering accommodation can be an excellent choice when it comes to staying somewhere relaxing and comfortable. If only the very best will do for you why not search for 5 star rated or award winning self-catering accommodation in the Heart of England.