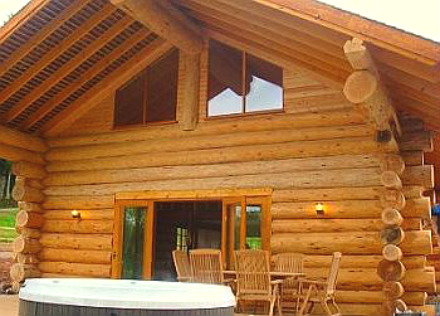 Luxurious Log Cabins on Cottage Gems
(Plus Wooden, Oak and Pine Lodges)
Searching for a high quality lodge or log cabin to rent? Cottage Gems features an excellent choice of luxurious holiday lodges and wooden cabins. For a memorable holiday experience these high-quality cabins are a top choice: well-furnished, quality decor and a range of glamorous facilities and features that can include hot-tubs, sauna's, games rooms and large gardens.

Search for a luxurious log cabin by Country:

Why choose a Log Cabin?
From log cabins nestled within forests or woodlands, to lodges set by the water's edge, Cottage Gems feature an excellent choice of high quality lodges. These self-catering properties are a popular choice with holidaymakers – their cosy atmosphere, the holiday feeling they inspire and their rustic charm are just a few of the reasons why log cabin holidays are so sought after. The romantic setting is ideal for couples seeking out a secluded, tranquil break. For families, the choice of 5 star log cabins means you can enjoy a comfortable and luxurious break with your loved ones. Be sure to look out for gold award winning lodges for unbeatable standards and style,

Self-Catering Facilities
Luxury lodges are a great choice for self catering holiday rentals and tend to be furnished to a high standard. Expect lavish and stylish decor and furnishings and look forward to a really comfortable stay. For the ultimate indulgence treat yourself to a stay in a lodge with those important extras such as a hot tub, jacuzzi bath, sauna or four poster bed for a truly pampered and sumptuous holiday. For some people, log cabins are simply the best for self-catering holidays due to that all important holiday feel that they offer. See the photos for further information about what each luxury lodge has to offer.
Some high quality luxury lodges can be found in beautiful picturesque settings such as on small developments set amongst forest, rolling countryside or even by lakes. Some lodges are on small log cabin holiday complexes whereas others are situated privately on their own. Those cabins on complexes although offering a little less privacy, sometimes have access to shared leisure facilities such as swimming pools or tennis courts.
Whatever the type of luxury log cabin break you are looking for, we hope you spoil yourself and book the very best holiday lodge where you can enjoy a truly indulgent getaway.
For MORE OPTIONS click a link from the list located at the top of this page, or visit RELATED PAGES at the bottom of this page to view a choice of similar Cottage Gems listings.