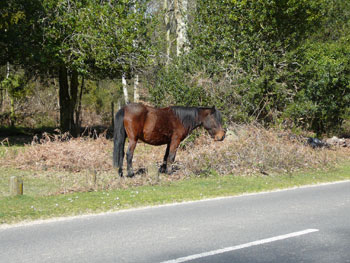 What the New Forest has to Offer for Luxury Self-Catering Breaks

The New Forest found in the county of Hampshire in South England is a lively, beautiful and wildlife rich area of the UK which is well worth a visit for a luxury cottage break. The best way to experience the wonderful delights of the New Forest is to get out and about and explore the hidden gems and appreciate the fantastic sights, sounds and smells of the forest. The New Forest is considered to be one of the few places in England where the ancient landscape seems to have remained so unchanged. Named by William the Conqueror in 1079 he never would have imagined that the forest would still be as mysterious and beautiful as it is today.
Top Tips on Quality Food and Dining in the New Forest

The New Forest boasts some fantastic fresh produce for you to enjoy including venison, pork, sausages, honey, mushrooms, cheese, crab and sole. These fantastic fresh foods, locally caught, reared or made are found throughout the menus of many good quality local pubs, cafes and restaurants. You can also enjoy these delightful treats within the comfort of your own luxury accommodation after visiting one of the numerous farm shops or local markets. You could also gather together one hell of a gourmet picnic or get yourself some delicious bangers to enjoy on your private barbeque! Tea shops and country pubs are in abundance in the New Forest and can be a great place to stop off for a rest and watch the world go by.

Recommended Places to Visit and Tourist Attractions in the New Forest
As the New Forest has such a wonderful history stretching all the way back to 1079 it is not surprising that the area also boasts some fantastic historical sights and buildings for you to enjoy. Hurst Castle, Beaulieu Abbey, Highcliffe Castle and Rockbourne Roman Villa are just some of the great places you can visit on a day out in the New Forest. There are also many beautiful churches boasting extraordinary architecture and great museums that will not only educate the children but may just teach you something you didnt already know. The Furzey Gardens, Exbury Gardens and Lepe Country Park are also available for people who appreciate beautiful flora and fauna. There are certainly plenty of choices when it comes to what to see whilst on a luxury cottage break in the New Forest.

If youre looking for attractions to entertain all age groups then family fun attractions such as Libertys Owl Raptor and Reptile Centre, Longdown Activity farm and New Forest Wildlife Park could be the perfect choice for a fun filled day out.

Activities to Enjoy on a Luxury Cottage Break in the New Forest

If attractions and history arent really your thing and youd prefer to enjoy the wonders of the forest by getting out and taking part in great outdoor pursuits then the New Forest has plenty of activities to keep you entertained too. Horse riding is a popular choice in the New Forest due to the wonderful landscape which is perfect for exploring on four legs. You can also enjoy water sports at the coast such as windsurfing, sailing and much more. Cycling and walking are commonplace and some may even consider the New Forest a paradise for walkers because of the endless walking routes that weave in between the gorse and vibrant woodland. Whatever you choose to do on your luxury holiday whether you decide to take it easy or enjoy taking part in various activities, we hope you have a fabulous time.

Add an Extra Touch of Luxury to your Cottage Break...
Luxurious touches that you can add to your visit to the New Forest include beautiful private boat trips, exhilarating helicopter rides or even a gentle float over the wonderful forest in a hot air balloon. You could also enjoy a relaxing and refreshing beauty treatment or play a wonderful round of golf at one of the luxury golf clubs.


More Places of Interest and Tourist Attractions to Visit on a Luxury Self-Catering Holiday in the New Forest:
There are a good number of attractions in the New Forest and to get the best out of your luxury break we recommend that you pop in to a tourist information centre on arrival. Some attractions that may be of interest to you include Bucklers Hard, New Forest Cider, St Barbe Museum and Gallery, Braxton Gardens, Breamore House, Lyburn Farmhouse Cheese makers, Moors Valley Country Park, New Forest Deer SafarI and Spinners Garden.