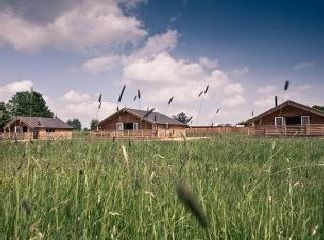 A luxury two bedroom lodge in the market town of March, Cambridgeshire, Fox Den Luxury Lodge is ideal for those looking for a peaceful holiday in the historic Fenland. Featuring a private hot tub, a log burner and leather sofas, this pet-friendly lodge has some spectacular views across the area's beautiful landscape. Look forward to some relaxing fishing in one of the two nearby lakes while you enjoy an unforgettable holiday in this idyllic location.
It is possible to start your stay on either a Monday or a Friday and you can book for either a four night mid-week break, a three night weekend break or a seven night week long break.
You can bring up to two dogs to the lodge and pets are charged at £4 a night for one dog and £6 a night for two dogs.
An early arrival at 12pm is possible for just £30, subject to availability.
If you book 7 days or less before the start of your stay, a 15% discount is applied to your booking.
Take a look at http://www.fieldsendfishing.co.uk for more information about this luxury property, its facilities and things to see and do in the local area.
Show availability and pricing information
Facilities:
Parking
Balcony/Patio

Towels & Bedding:
Bed linen provided
Towels provided

Special Facilities:
Outdoor hot tub
Wood stove
Internet access

Amenities:
TV
Video or DVD
Microwave
Dishwasher
Freezer
Shower
Central heating
Laundry facilities

March