Luxury Country House, Peak District National Park
Booking and Enquiries
Ask a Question
Payment Options: cheque, bank transfer, credit card

Contact: Ms. Kirsty Cook

01298 871004
or 01298871004
Booking Info and Advice



Always call and speak to owners or agencies before placing a booking. This allows you to get answers to any questions you may have and to get a feel for the owner or agency. Always double check bank details and payment methods with owners or agencies over the phone before booking.
For your own security you should NEVER complete a Bank Transfer to a country outside of the UK or Ireland without checking this first with cottagegems.com. Email us for advice.
It is strongly advised that you take appropriate holiday insurance out to cover your cottage holiday. Some agencies listed with us offer this. Alternatively you can source holiday insurance independently.
Key Cottage Information
Price Guide from £1300 to £2200 per week
Quality Rating: No Tourist Board Rating
Number of units of accommodation: 1
Accommodates: 14 to 18 people in 7 bedrooms
Number of bathrooms: 4
Short Breaks Bookings Welcome: Yes
We specialise in weekend breaks all year round. VISIT OUR WEBSITE FOR ONLINE AVAILABILITY

Special Features
Sky Television
Open Fire
Romantic Four Poster Bed
Leisure Facilities: Swimming Pool
Disabled Accessible Features:
Yes
If you have any special disabled access needs or requirements please contact the owner or agency direct to find out whether the luxury property fully meets your needs before booking.
Child Friendly Features:
Yes
Dogs Welcome*:
No
Smoke-free
* Extra charges may apply. Contact owners or agencies for details.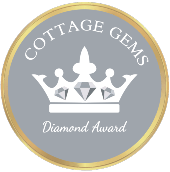 Membership Badges
The owner/agency of this property is a Diamond badge holder and has been listed with Cottagegems.com for more than 13 years.
Read More
Similar Luxury Selfcatering Accommodation