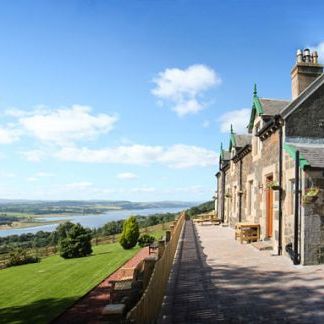 Looking to take a family holiday in central Scotland but want to stay somewhere stylish and very comfortable? If so consider staying at one of the lovely 2 bedroom holiday cottages at Gavinburn Cottages. This collection of high quality cottages enjoy an elevated setting by a hillside with views over the River Clyde at the bottom of the hill.

There are 3 superb family-friendly holiday cottages to choose from and facilities on site include a children's outdoor play area with swings, as well as facilities such as a Wii in each of the cottages and DVDs to keep children entertained.

For days out the Loch Lomond and Trossachs National Park is only 15 minutes drive away so you won't have to listen to questions of 'Are we there yet?' en route. Even closer are the Kilpatrick Hills where you can enjoy walking, hiking and mountain biking (there is a nearby mountain biking trail).
There are 3 family cottages, each with 2 bedrooms to choose from at this lovely location near Loch Lomond:

- the Glengoyne
- the Glenlivet (next door to the Macallan)
- the Macallan (next door to the Glenlivet).

Call or email Gavinburn Cottages via the site to find out more and to book your family break away.
Show availability and pricing information
Facilities:
Parking
Garden

Towels & Bedding:
Bed linen provided
Towels provided

Special Facilities:
Wood stove
Internet access

Amenities:
TV
Video or DVD
Microwave
Coffee Maker
Dishwasher
Freezer
Bath
Shower
Central heating
Laundry facilities

Old Kilpatrick