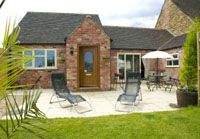 Old Guadaloupe Cottage is an excellent cottage with fantastic original beams and high quality accommodation for up to 4 guests. There is a well equipped kitchen, a comfortable lounge with dining table and sofa bed and a king size bedroom. You will also find a large walk in shower, an outside patio with garden furniture and BBQ and a wonderful private hot tub. This quiet and peaceful cottage makes the ideal romantic retreat or small family holiday cottage.
Private parking. No Smoking. No pets
Take a look at http://www.oldguadaloupecottage.co.uk for more information about this luxury property, its facilities and things to see and do in the local area.
Show availability and pricing information
Facilities:
Parking
Garden

Towels & Bedding:
Bed linen provided
Towels provided

Special Facilities:
Tennis court
Outdoor hot tub
Internet access

Amenities:
TV
Sky TV
Video or DVD
Microwave
Dishwasher
Shower
Central heating
Laundry facilities

Melton Mowbray
Luxury self catering cottages are a great choice for holidaymakers seeking a memorable getaway in the UK or Ireland, these high-quality holiday homes offer the finest standard of accommodation meaning you can relax and unwind amongst stunning surroundings during your holiday. Melton Mowbray is a popular town found in the north-east of Leicestershire, it is well know for being home of the pork pie and is known as the 'Rural Capital of Food'. Visitors to Melton Mowbray are sure to enjoy their time exploring this charming town that is packed with character, search below to find the perfect luxury self catering accommodation for your stay.