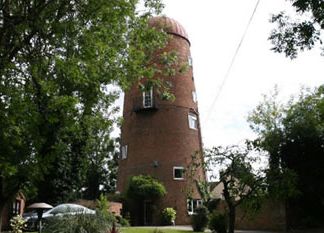 Braunston Windmill is a unique and very special property set in the heart of the UK in the county of Wawickshire. This six storey windmill has featured on ITV and BBC as well as many leading travel publications. The mill is found in the historic village of Braunston boasting comfort as well as style with 18th century character and 21st century comforts.
Braunston Windmill has 3 bedrooms which can accommodate up to 6 people comfortably.The first floor of the windmill comprises of a state of the art kitchen with lagre 8 seat table. The second floor boasts a huge lounge with large sofas and a fantastic TV. On the third floor is a excellent bathroom with a 1.5m round bath with fitted whirlpool jet, a new round steam shower and a double bedrooms with 6'3" round bed and en-suite bathroom. The fourth floor boasts a balcony with stunning views of Rugby, a king size bedroom with spectacular views and a toilet. The fifth floor is the top of the world room consisting of two levels. There is a beautiful balcony, freestanding double ended bath and a bedroom area with 5ft 4 poster bed. Finally the Braunston Windmill is completed with a private garden with outdoor seating and BBQ for al fresco dining and a private 6 seater hot tub.
Braunston mill is a spectacular, unique and magical holiday home that will leave guests with some fantastic memories.
Show availability and pricing information
Facilities:
Parking
Garden

Towels & Bedding:
Bed linen provided
Towels provided

Special Facilities:
Jacuzzi bath
Outdoor hot tub
Sauna

Amenities:
TV
Sky TV
Video or DVD
Microwave
Dishwasher
Freezer
Bath
Shower
Power shower
Central heating
Laundry facilities

Warwick
The county town of Warwick lies upon the River Avon in the heart of Warwickshire. Warwick is a beautiful town with history and heritage creating a real sense of charm and character. An ideal destination for holidaymakers looking for a luxury self-catering break in the Midlands.