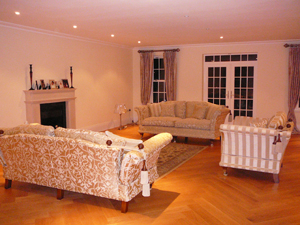 For a truly indulgent break why not rent a luxury holiday cottage where you can de-stress, relax and enjoy quality time with family, friends or that someone special?
Find the perfect holiday house to rent for you on Cottage Gems.
Luxurious Cottages for your holiday in the UK:
There's nothing quite like a stay in high quality sumptuous and comfortable surroundings when it comes to treating yourself and enjoying a bit of pampering.Pamper yourself on a luxury holiday and enjoy those extra special touches such as quality linen, towels and in many cases a nice little welcome pack for your arrival, plus of course those all important comfortable surroundings. Some luxurious holiday homes even offer complimentary bubbly on arrival for a true taste of the finer things in life. We feature an inspirational choice of holiday homes that are bound to impress and are for those looking for the very best and highest standards of accommodation. If you're looking for elegant and stylish self-catering properties with those extra-special touches like granite worktops then we have the place for you!
Cottage Gems aims to offer the best accommodation choice the Uk has to offer and our lisitings boast a whole range of features and facilites that can help add to the most tranquility, relaxation and glamour of your holiday experience, take a look at our homes with hot tubs or accommodation with pampering available to get a flavour of the glamour and prestige available to you. Alternatively, for family/party entertainment, you may be looking for a luxury party house with a function room or large dining room where you can hire outside caterers. You may even be thinking of renting a large country house or castle. If you enjoy spending fun time with friends or family you may want a luxurious cottage with swimming pool where you can splash about and have fun or perhaps a private cinema room.
If you really want to spoil yourself and be pampered in the highest quality accommodation a 5 star cottages or a 4 star cottage could be perfect.
If you are after a short break, there is a great range of luxurious cottages available for short breaks or if you are stuck for ideas, why not view our inspiration page?
Whatever type of luxurious holiday house you have in mind, we hope you find the best luxury cottage to rent for you.