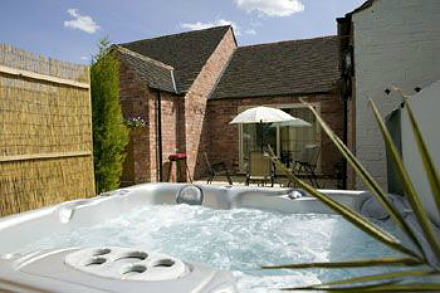 Dreaming of a luxury cottage holiday with a warm bubbly hot tub? Cottage Gems features a great choice of indulgent luxury cottages with warm bubbly hot tubs, for pampering and relaxation on holiday.
Hot Tub Cottages by Country

Luxurious Cottages with Hot Tubs
For a truly luxurious cottage holiday there is nothing quite like renting a high quality self-catering cottage with a hot tub for that feeling of luxury and indulgence. Whether you choose a 5-star romantic retreat or even a large country house, staying in a holiday home with the spa facility of a hot tub can help make your break that bit extra special and Cottage Gems features a great selection of hot tub properties to tempt you.


What Makes Hot Tub Holidays So Very Special
There's something about a hot tub holiday that can make you look forward to your break that bit more. For many, the idea of the relaxation awaiting you once you arrive at your holiday home where you can immerse yourself in the hot steamy bubbling water and let the massaging jets help you relax and unwind is truly appealing.
Relax and Unwind in Style
Relax and soak in the surrounding views from within the warm waters of your own private tub. Wash away your worries and simply enjoy unwinding. At some exclusive properties you can adjust the jets so you can find the perfect level of comfort. Let the jets massage your muscles and warm your body. Hot tubs can be enjoyed all year round making them a fine addition to any luxury holiday home. In fact, outdoor tubs can be at their best in the winter months, when you and your partner can soak in the winter scenery from the comfort and warmth of your spa bath. Let the warm bubbles caress and relax you when you book a hot tub holiday.
Find High Quality Hot Tub Properties with Cottage Gems
Whether you want to rent a 5-star rated holiday home, an award-winning log cabin or any other type of luxurious, stylish holiday home, Cottage Gems feature an excellent collection of the best self-catering accommodation the UK and Ireland and many now include hot tubs for you to choose from. Choose from properties with indoor or outdoor hot tubs in England, Ireland, Scotland or Wales. Some holiday houses feature private hot tubs for your exclusive use whereas others offer access to shared spa facilities. Cottage owners and agencies are best placed to advise you about the facilities on offer. For extra privacy and luxury, booking a cottage with a private hot tub is recommended. We hope you find the perfect luxury holiday cottage with warm bubbly hot tub for you on Cottage Gems.