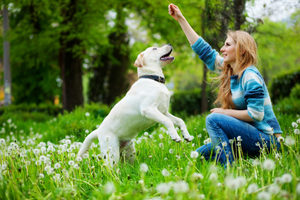 Searching for a dog-friendly luxury holiday cottage? Cottage Gems feature a great range of high quality and luxurious holiday homes where you and your pet pooch will be made very welcome. Rest assured, there are lots of luxury self catering properties where dogs are welcome to choose from.
Find inspirational dog-friendly places to stay:
Depending on your party size, you may be looking for a cosy cottage for 2 for example or for a larger property for 2 or more. The links below should help you find suitable dog friendly self catering luxury holiday homes. To run more specific searches use the search assistant to find the kind of dog friendly luxury self catering you are searching for.
Some of these establishments have been graded 5 star or 4 star by the relevant Tourist Board but not all self catering accommodation providers opt to be rated. See each ad for more information about each cottage.
Whichever luxury cottage you opt for, it's important to liaise with the self catering accommodation provider about your pet as some have rules on the number of dogs that they accept and certain requirements that they stipulate and in some cases extra charges. Some though will allow you to bring your dog for free. Wherever you decide to stay, we hope that you and your much loved pet have a lovely luxury break.
It's always best to liaise with the cottage owner or agency re the pet dogs you intend to take on holiday. Most dog friendly cottages allow 1 dog, whereas some allow 3 or 4 dogs. As always, check with the cottage owner or agency to find out more about arrangements for bringing your pet dog with you on your luxury self catering break.