19 Properties match your Search for Luxury Self Catering Wedding Venues .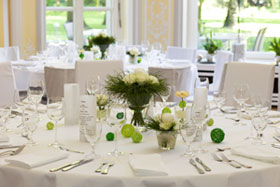 Wedding days are said to be one of the most important days of your life. Lots of people aim to make their wedding day a perfect occasion and what better way of celebrating your wedding than by hiring a beautiful luxury country house or large luxury cottage to celebrate the special occasion?
Looking for somewhere inspirational for a special wedding celebration?
If you are looking for somewhere to tie the knot then see:

Luxury country houses or large luxury cottages can be a good option for wedding receptions as many have large grounds where it may be possible to put up a marquee in the summer or large reception areas for other times of year. Many luxury self catering accommodation providers know local caterers and entertainers and will be able to make personal recommendations to make your wedding reception a truly memorable occasion.

Some luxury country houses are even licensed to hold weddings and can be hired for wedding ceremonies.
To narrow down your search you may wish to look for luxury wedding venues in England, Scotland, Wales or Ireland.
If you are planning your honeymoon see:
To search by country for luxury self catering wedding venues in England, Wales, Scotland or Ireland for example, use the sort by menu on the above pages.