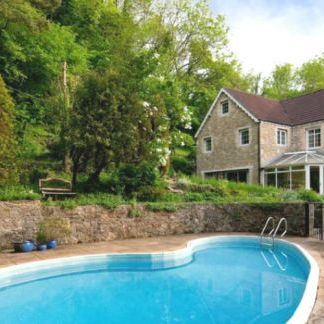 With its own private outdoor swimming pool, this 6 bedroom holiday house is a great place to stay for groups of up to 16 people. With a secluded setting and around 8 acres of grounds, you can enjoy hiding away with family or friends in this high quality holiday house yet enjoy being just 8 miles from the historical spa city of Bath.
Inside, this holiday house just keeps on giving with a boutique-hotel style décor making this a great place to relax and enjoy fun and laughter with friends and/or family.
The lounge area with its extensive comfy seating and big TV is a real treat whereas the light-filled dining area is a great place to enjoy special dinners altogether. The kitchen is well equipped and features a breakfast area, a large range cooker, two fridges, two freezers and a dishwasher. There is also a conservatory and utility room with washing machine and storage area. There are 6 bedrooms (one master bedroom with a romantic four poster bed, an Oriental style bedroom with twin zip and link beds, a Forest bedroom and Seaside bedroom which each sleep 4 in two doubles or 4 single beds, a Rose bedroom with twin zip and link beds and a ground floor Spring bedroom with twin zip and link beds).
In terms of bathrooms there is a luxurious shower room and two of the bedrooms have ensuite bathrooms.
The swimming pool is usually available from April to the end of September.
Show availability and pricing information
Facilities:
Parking
Garden
Balcony/Patio

Towels & Bedding:
Bed linen provided

Special Facilities:
Swimming pool
Games room
Wood stove
Open fire
Internet access

Amenities:
TV
Sky TV
Microwave
Coffee Maker
Dishwasher
Freezer
Bath
Shower
Power shower
Central heating
Laundry facilities

Box