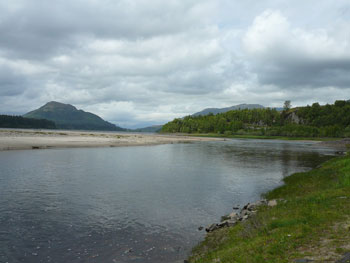 Luxurious Self-Catering Holidays in the Highlands of Scotland


The Highlands is the most northern most point of the Scottish mainland, consisting of 6 areas including Loch Ness and Skye. Remote in location, the Scottish Highlands could be an excellent choice for a luxury cottage break for those looking to get away from it all and enjoy the sense of freedom and space in this part of Scotland. This culturally distinct region of Scotland is a truly beautiful place to visit, influenced by its violent history, strong Scottish culture and heritage and the Gaelic language. In the wild landscapes of the Highlands, spectacular wildlife and nature are not confined to parks and reserves, you could experience some of nature's most wonderful creatures in the most casual of encounters. Watch dolphins and seals play off the coast of the Moray Firth or enjoy spotting interesting birds such as puffins near the stacks of Duncansby. The Northern Highlands are an excellent choice for visitors who enjoy walking, trekking and mountain climbing. There are also lochs for anglers to enjoy fishing in solitude. Skye and Lochalsh create the strongest sense of awe in visitors to the Highlands, the stunning mountain profiles have drawn visitors to the island for years.

When taking a luxury self-catering break in the Highlands, some like to stay in Inverness, the capital of the HIghlands. Inverness is the Highlands modern city and main settlement, connecting the rest of Scotland and the UK to the Highlands. Loch Ness can be found just a short drive away and has to be one of Scotland's best known attractions, well known all over the world for its monster, it lies 600 ft deep and 23 miles long and is the largest in Scotland in terms of its volume. So its no surprise that people have claimed to witness unusual and unexplained happenings surrounding the loch making it an interest for the media since the 1930s.

Top Tips on Quality Food and Dining
It has been said that it is very easy to eat well in the Highlands. This may have something to do with the multiple quality foods produced in the area. When it comes to stocking up your luxury kitchen ready for your cottage stay in the Highlands, you may wish to make a day of it and explore some of the fantastic locations that these great foods are produced in. Discover a wonderful delicatessen in Inverness, Harrods in Shin Falls, a farmers market in Portree, a smokery in Strathsprey or discover homemade pies in Lochinver. You will also find sought after highland cheeses as well as a wealth of edible fungi that grows here in the Highlands. When it comes to fish, Moray is unrivalled in terms of its lobster, mussels and salmon; you can also find some beautiful game here.

However if driving around collecting goods for your holiday shop doesnt sound like your cup of tea and youd much rather drive around exploring the delicious restaurants on offer in the Highlands then there are plenty to choose from. The fresh local produce inspires the Highland chefs to cook up some truly scrumptious dishes. Tiny towns and villages throughout the area could be home to the best food youve ever tasted so dont pass them by. The Isle of Skye is even home to one of the most highly rated restaurants in the world, rating in the top 50 world wide. Some great restaurants in the Highlands include The Lovat at Loch Ness, The Inn at Ardgour, The Waterfront restaurant 131 and The Torridon which serves exquisite cuisine in a stunning environment. Not only can you enjoy fine dining and beautiful dishes whilst on your luxurious self-catering holiday in the Highlands, there are also some fantastic pubs, cafes and tea rooms for a light meal, snack or afternoon tea.

If you are lucky enough to be enjoying a luxury cottage stay on the Isle of Skye at the right time, experience the sensation that is the Skye and Lochalsh Food Festival, enjoy seafood cruises, gaelic coffee, whisky tasting and a tea party plus much more. On the mainland, there is also the Highland Feast which is the Highland Food and Drink Festival, used as the autumn show case to display the very best foods and drinks that are on offer.
Recommended Activities to Enjoy on a Luxury Cottage Break in the Scottish Highlands
After stocking up on all that food you will need to find some exciting ways to burn it off and the Highlands has plenty to offer someone looking to get out and about and enjoy the landscape. Those who like to keep active should find plenty to enjoy on a luxury self-catering break. Walkers, trekkers and mountaineers will find the Highlands with no comparison, the stunning mountains, and extensive way marked paths and trails and the beautiful coastal walks will inspire you to just keep going, who knows what you may discover. In the winter the Highlands becomes alive with the ski centres in Glencoe, the Cairngorms and Nevis Range. You can also enjoy a spectacular game of golf with 44 courses to choose from, discover the amazing scenery by horse back or enjoy taking in the sights on one of the dedicated cycle tracks as well as off road mountain biking terrain. Fishing is also a wonderful experience in the Highlands, with a great value day permit you can enjoy the beautiful views from a peaceful and tranquil spot beside one of the stunning Lochs or have a go at sea angling and take a charter or boat trip off the coast.

For those visitors who enjoy thrill seeking on a self-catering holiday you can find plenty of excellent water sports to get the blood pumping. River Kayaking, wind-surfing and water-sport based holidays are all available in the Highlands. On land you can enjoy some unusual activities that may not be possible at home such as shooting, archery, sled-dog riding, petanque and rock climbing.

Tourist Attractions and Places of Interest in the Highlands of Scotland

Some people may not enjoy spending all their time in the Highlands out and about taking part in activities. When staying in a luxury holiday home you may want to spend some time just enjoying your surroundings and taking it easy. For those people looking to get an insight into Scotlands extensive history, culture and heritage there are plenty of exciting places of interest for you to visit. Ancient Cairns such as Clava and Corrimony, stone settings in Caithness and Sutherland and brochs which are uniquely northern defensive round towers, are all worth a visit when looking into Scotlands history. At one time, stone-built Castles were positioned in places of strategic importance, in Scotland, Urquhart Castle, Dunvegan Castle and Gardens, Brodie Castle and Eilean Donan Castle are just a fraction of these beautiful historic buildings in the Scottish Highlands. For those visitors who enjoy natural attractions you could say that the Highlands is a natural attraction in itself. However, places of interest also include spectacular waterfalls, breathtaking beaches and amazing rock formations. Of course there is also the magnificent Loch Ness where you can enjoy the beautiful 3 acres of garden at Abriachan. There is also the visitor centre at Urquhart Castle where you can discover the story of this great glen fortress. There is also of course the Loch Ness Centre and Exhibition where you can get more information about all the sightings over the years of the Loch Ness Monster.


Add an extra touch of Luxury...
Although the luxurious landscapes and your luxury accommodation should provide you with ample amounts of luxury on your holiday in the Highlands you may wish to create some truly fantastic memories of your trip. Why not enjoy a spectacular hot air balloon ride through the Highland skies, take in all the sights and marvel at the beauty of Scotland. You could always take the speed up a notch and take a helicopter tour of the area as well. There are also plenty of Health spas and clubs in the area for you to enjoy some quality pampering and a private coastal tour in your very own boat afterwards may just provide you with the relaxation you need.


More Tourist Attractions and Places of Interest to Visit on a Luxury Cottage Break in the Highlands:
It could be said that the best of the Highlands is the areas natural attractions and stunningly beautiful glens, lochs and mountains. If you like the idea of visiting attractions then the Highland also has its fair share. A few include Armadale Castle and Gardens, Cawdor Castle and Gardens, Elgin Museum, James Pringle Weavers, Clan Gunn Heritage Centre, Glenfinnan Monument and Visitor Centre, Jacobite Steam Train, Mallaig Marine World, Skye Serpentarium and the Highland Wildlife Park.
Whether you opt to rent a romantic luxury cottage for 2 or an award winning cottage, we hope you find the best cottage for you and enjoy your stay in a high quality self-catering holiday home.