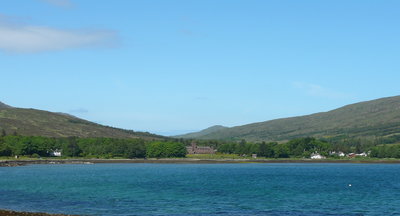 A luxury cottage holiday on one of the Inner Hebridean islands is likely to appeal to those who want to truly get away from it all and appreciate the naturally good things in life. Discover stunning natural scenery, breathtaking landscapes, a relaxed pace of life and an abundance of wildlife in these remote Scottish isles.
The Best of the Inner Hebrides:
Isle of Skye – one of the most popular islands of the Inner Hebrides to visit, Skye is known for the quality of the light that so inspires artists, the mountains, coastline, castle and wildlife. This isle can be reached by car via the bridge from the Scottish mainland at the Kyle of Lochalsh. Ferries also operate between Mallaig and Armadale on Skye. If you prefer to fly, flights operate between Skye and the main Scottish airports of Edinburgh, Glasgow, Aberdeen and Inverness.

Islay – this is the most southerly of the Inner Hebrides. This island has a beautiful coastline with a number of quiet sandy beaches, pretty fishing villages and 8 whisky distilleries. Most visitors to Islay arrive by ferry from Kennacraig on the mainland. Flights also operate between Glasgow and Islay.

Jura – With a population of little over 200 people and a population of over 5000 deer, Jura is an unspoilt, tranquil place. Jura is located North East of Islay and is around the same size as Islay. This island promises excellent wildlife watching opportunities, particularly for deer along with some good walks and a stunning coastline. The island also has hills, a whisky distillery and some interesting standing stones. For a real unspoilt wilderness, head to the West Coast of Jura for excellent wildlife watching.

In terms of getting to Jura, the island can be accessed via ferry from the Isle of Islay. The ferry runs from Port Askaig. See above for information about how to get to Islay.

Isle of Mull – this island is undoubtedly best known for the pretty village of Tobermory which so inspired the children's television programme 'Balamory'. After Skye, the Isle of Mull is the largest island of the Inner Hebrides and offers a stunning coastline, fabulous natural beauty and great wildlife watching opportunities. Ferries operate between Mull and Oban on the mainland.

Isle of Rum – this special island is a dedicated Scottish Nature Reserve. Unspoilt and lovely, this island is a great place for bird watching, walking, deer spotting and seeing wild ponies. There is also an interesting historical castle on the island. Ferries operate between Mallaig and Rum. Passenger boat trips also operate between the Isle of Skye and Rum.

There are various options when it comes to luxury self-catering accommodation on the islands of the Inner Hebrides. For a really pampered relaxing break you may want to find a cottage with a spa, Jacuzzi bath or hot tub. Or if you are travelling as part of a family you may be looking for a luxurious family self-catering stay or a luxury pet friendly self-catering property.