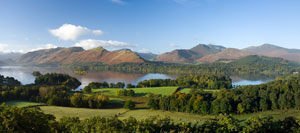 Discover the Lake District on a Luxurious Self-Catering Holiday

The Lake District is England's largest national park and home to Scafell Pike, its highest mountain, and Wastwater, its deepest lake. What makes the Lake District special and stand out above the other National Parks in England is the presence of extensive lakes and tarns which give it a special quality of scenery as well as a recreational resource which is found nowhere else in England. The Lake District is a great place to spend a self-catering luxury holiday if you plan on being active, with so much to explore and some breathtaking views to experience it is well worth getting out and about, whether that be on the many varied walks in the park, cycling or horse riding. Of course with 12 of the largest lakes in England found here also providing extensive water sports for you and your companions to get stuck into, such as hiring a rowing boat, a sailing dingy or canoe you wont fall short of things to do.
Top tips on Quality Food and Dining
The Lake District is a foodies paradise with many locally sourced, organically grown products. Some of the fantastic foods that are particularly associated with the Lake District include Cumberland sausages, Damsons, Grasmere Gingerbread, Kendal Mint Cake and Herdwick lamb. You can pick up any of these great products from local shops and farmers markets to take back and cook at your luxury holiday home. You can also enjoy some of these wonderful foods amongst amazing dishes in local restaurants and cafes, especially the Cumberland sausage.
Recommended Activities on a Luxury Cottage Break in the Lake District
As well as being a fantastic place to enjoy a huge variation of sporting activities whilst on a luxury break, the Lake District is also famous for its stunning scenery, abundance of wildlife and its amazing cultural heritage. Its semi-natural woodlands, stretches of water and farmland provide texture, colour, variety and amazing habitats for hundreds of creatures and native plants. However to enjoy all of this to its full potential and experience some of its best views why not take a wonderful pony trek, cycle ride or walk on one of its many trails and treks.

You can also enjoy rowing, wind surfing, kayaking, fishing or a great splash about at the shore of one of the park's magnificent lakes. For more thrill seeking visitors to the park you can even find sporting activities such as zorbing, mountain boarding, abseiling and kite surfing. On the other hand for a less strenuous activity take a steam boat tour of Ullswater or Coniston or rent your own boat and investigate at your own pace.
Places of Interest and Tourist Attractions in the Lake District National Park

Surprisingly the Lake District is also home to some beautiful heritage sites and interesting historical attractions for those of you looking to relax and delve into the history of the area whilst on a luxury self-catering break. In the north of the Lake District you can discover Mirehouse Historic House, Aughertree Fell Settlement, Force Cragg Mine and Castlerigg Stone Circle. Towards the South of the National Park there is also Stott Park Bobbin Mill, Townsend Statemens House and Brantwood Barkpeelers Hut.
Add a touch of luxury...
Looking to add a little more luxury and glamour to your luxury cottage holiday? Experience a breathtaking view of the Lake District from the amazing vantage point of your very own hot air balloon. Softly float above the beautiful landscape and experience a Lake District that very few have. If you want to have an even more glamorous time then why not book a helicopter ride and take an exhilarating flight above the biggest National Park in Britain.
More Places of Interest and Tourist Attractions in the Lake District:
The Lake District covers quite a wide area and has a variety of attractions. It may be a challenge deciding which of all to visit during your luxurious self-catering holiday. Attractions include the World of Beatrix Potter, Hawk Bobbin Mill, Haweswater Dam, Adventure Hub, Springs Bloomery, Force Cragg Mine, Shap Abbey, Castlerigg Stone Circle and Brantwood Barkpeeler's Hut. The Lake District has to be one of England's top holiday destinations and therefore there is a wealth of self-catering accommodation available to rent in the area from award winning cottages to romantic and pet friendly cottages. However you opt to spend your time, whether you love visiting National Trust Houses or taking part in adrenaline pumping activities, we hope you find good quality luxurious self-catering accommodation to rent in the Lake District.