6 Properties match your Search for Luxury Cottages with an Outdoor Pool.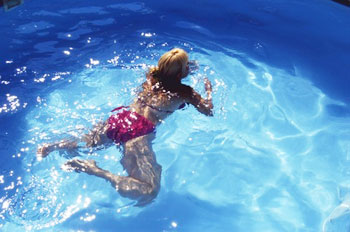 Looking to rent a luxurious holiday cottage with an outdoor swimming pool? Let us help you find a great place to stay for a truly relaxing holiday.
There's nothing quite as fun as enjoying a splash around or a length or two in a swimming pool on a hot summer's day. Cool off in the water after a day's exploring in the countryside, wake up invigorated with a morning swim, play games with the kids or just laze around by the poolside all day: it's easy to have fun and relax when you have an outdoor pool at your disposal at a holiday house.
Some cottages featured have their own private pools, whereas others offer access to shared facilities. If you're unsure, it's always best to check direct with the cottage owners to avoid confusion.
Outdoor Pools for Summer Fun
Outdoor swimming pools are fantastic in the summer months, but you may want to think about renting a luxury cottage with an indoor pool if you're holidaying at a time when the weather may not be so agreeable.
If swimming's not your thing but you still want to dip your toes in the water, why not try holiday homes with their own hot tub?

We hope you find the perfect holiday cottage with outdoor swimming pool for you on Cottage Gems