Sleeps 12
6 Bedroom(s)
Bathroom(s)
No pets





Description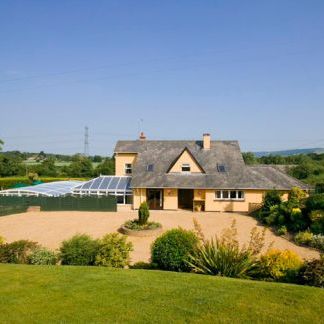 The entrance to this property is down a beautiful stoned track which leads down to the entrance of the house with a large parking area and beautiful surrounding gardens. This property boasts spacious hallways and living areas, including a wonderful conservatory. There is a covered heated outdoor swimming pool, BBQ area, table tennis table as well as a children's play area which has a trampoline and climbing frame. The six bedrooms in the property are all of good size and can be altered to twins or doubles upon request.
There is a large farmhouse style kitchen, complete with oil fired electric cooker, large American fridge freezer, two microwave ovens, a dishwasher and an array of kitchen utensils. The wooden kitchen table can seat up to 12 people people. The property also comes with a large utility area with washing machine, tumble dryer and iron, as well as a second dishwasher and further American fridge/freezer.
Show availability and pricing information
Location
Taunton
If you are planning a luxury cottage break in the south west of England then a break in Taunton could meet your needs perfectly; search this page to view the self-catering holiday homes found in and around this charming town. Taunton is a historic town and is home to some beautiful architecture that gives it a great sense of character; the tower of St. James Church is an iconic landmark that overlooks the county cricket ground. There is plenty to see and do in and around Taunton;
Somerset
is a beautiful county with an abundance of stunning countryside just waiting to be explored. Search this page to find the perfect luxury accommodation for a holiday in Taunton, click on the images to find out more information about particular properties.