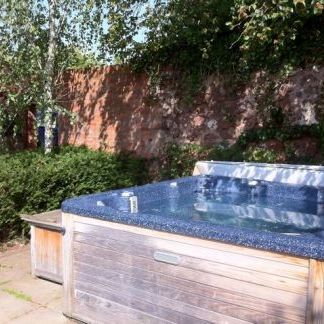 The Quad is a contemporary converted barn ideal for a luxury holiday with friends or family in scenic Somerset. The barn boasts 6 bedrooms, 4 bathrooms and can sleep up to 16 guests comfortably within its large suites. Set within landscaped gardens in a tranquil and rural valley in Somerset just ten minutes from the M5, this appealing property is situated in an ideal location for family reunions, special celebrations or get-togethers, we also welcome Hen and Stag parties. With over an 80 sq metre living area which has a 4 ft Plasma television and both an indoor and outdoor dining table to seat 16 plus children, there is plenty of space for everyone to enjoy. All bedrooms are furnished to the highest standards with a delightful mix of old and new and all beds are new and of the highest quality, the master suite even boasts a four poster double bed and all other rooms have zip-and-link singles which can then be made up to make doubles. The bathrooms are large and beautifully finished with limestone or mosaic, the master en-suite alone has a walk in double shower, twin sinks and a double bath.
Three of the six bedrooms can be found downstairs which boasts complete underfloor heating, one bedroom is separated from the rest with its own en-suite, this could be ideal for teenagers or anybody who doesnt wish to be disturbed. The other two en-suite bedrooms would be suitable for any disabled guests or anybody with mobility issues.
There is a large fully equipped kitchen however if you'd rather not cook whilst enjoying your break away there are two chefs who can come and prepare some fantastic dishes for you to be served at the barn. A large hot tub which can seat up to 8 people is also available as well as a BBQ for those warm al fresco evenings. This wonderful property is designed for groups, the space is flexible and spacious and we would make every effort to make sure your stay with us was as you expected. We can even help to arrange activities from craft classes to manicures, clay shooting, balloon trips and bushcraft survival.
Show availability and pricing information
Facilities:
Parking
Garden
Balcony/Patio

Towels & Bedding:
Bed linen provided

Special Facilities:
Jacuzzi bath
Outdoor hot tub
Games room
Wood stove
Open fire
Internet access

Amenities:
TV
Sky TV
Microwave
Coffee Maker
Dishwasher
Freezer
Bath
Shower
Power shower
Central heating
Laundry facilities

Taunton
If you are planning a luxury cottage break in the south west of England then a break in Taunton could meet your needs perfectly; search this page to view the self-catering holiday homes found in and around this charming town. Taunton is a historic town and is home to some beautiful architecture that gives it a great sense of character; the tower of St. James Church is an iconic landmark that overlooks the county cricket ground. There is plenty to see and do in and around Taunton;
Somerset
is a beautiful county with an abundance of stunning countryside just waiting to be explored. Search this page to find the perfect luxury accommodation for a holiday in Taunton, click on the images to find out more information about particular properties.