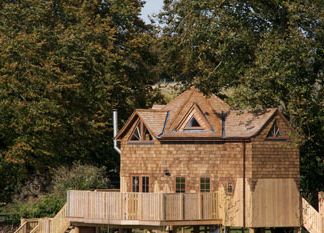 The Treehouse is a spectacular, unique, property situated in the stunning conservation village of Halse in Somerset. Positioned in an Area of Outstanding Natural Beauty, The Treehouse is the perfect location for a relaxing short break or long holiday in the beautiful county of Somerset. Boasting a fairy tale exterior and a spacious, sumptuous interior, The Treehouse provides its guests with an excellent holiday retreat. The living area is open plan with solid wood floors and underfloor heating. There is a stylish kitchen and comfortable sofas as well as a great woodburning stove. The Treehouse has two bedrooms, the master bedroom is entered by a spiral staircase and boasts a six foot white iron bed beneath a triangular skylight. There is also an outdoor hot tub for some extra luxury, and access to an indoor swimming pool.
Show availability and pricing information
Facilities:
Parking
Garden

Towels & Bedding:
Bed linen provided
Towels provided

Special Facilities:
Swimming pool
Outdoor hot tub
Wood stove
Open fire
Internet access

Amenities:
TV
Video or DVD
Microwave
Dishwasher
Freezer
Bath
Shower
Central heating
Laundry facilities

Taunton
If you are planning a luxury cottage break in the south west of England then a break in Taunton could meet your needs perfectly; search this page to view the self-catering holiday homes found in and around this charming town. Taunton is a historic town and is home to some beautiful architecture that gives it a great sense of character; the tower of St. James Church is an iconic landmark that overlooks the county cricket ground. There is plenty to see and do in and around Taunton;
Somerset
is a beautiful county with an abundance of stunning countryside just waiting to be explored. Search this page to find the perfect luxury accommodation for a holiday in Taunton, click on the images to find out more information about particular properties.