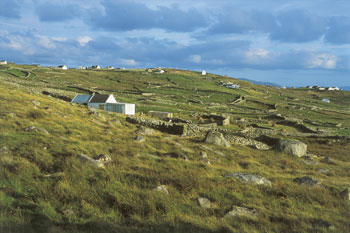 Summary of what Connemara has to offer for Luxury Cottage Breaks
Connemara National Park can be found to the West of Ireland within County Galway, near Letterfrack and Clifden.

The Park is made up of 2,957 hectares of stunning mountains, large stretches of bog, heath, woodland and grassland. It is one of the largest areas of unspoiled countryside in Ireland. A stay in a luxury cottage in Connemara is likely to best suit those looking to get away from it all. The park is home to some of the mountains that are included in the famous Twelve Bens or the Beanna Beola Range, such as Benbaun, Bencullagh, Benbrack and Muckanaght. It is also home to the Connemara pony, who although is a domestic animal is considered very much part of the Connemara wilderness. With such an incredible area of Ireland waiting to be explored, a beautiful luxury self-catering cottage break in or near the Connemara is a fantastic way to spend your holidays. Nature lovers will appreciate the diverse countryside and everyone will enjoy the fresh air and beautiful views.
Top tips on Quality Food and Dining in Connemara

The beautiful natural habitats mean that the Connemara can offer a huge range of restaurants, cafes and pubs to enjoy on a luxury break. Many serve fresh local produce in wonderful traditional dishes. Seafood and lamb are a particularly good choice in Connemara and you are bound to find something to suit your taste. Some great restaurants in Connemara and particularly in Clifden include Mitchells, Fogertys and Ardagh Restaurants. If you would rather enjoy a meal in the comfort of your luxurious cottage, visit the quaint shops in the local towns to purchase some truly fresh and local produce to cook up a wonderful traditional dish yourself.
Places of Interest and Tourist Attractions in Connemara
As well as the great food for you to enjoy on a luxury holiday in the Connemara, there is also a lot to offer in terms of days out and exciting places to visit. The history and heritage in Connemara is wonderful and places such as the megalithic standing stones, the stone and earth forts and the Marconi Wireless Station illustrate this perfectly. You can also discover Kylemore Abbey and Gardens or take a strolling Connemara tour taking in the best of the stunning landscape and awes inspiring coastline.
Recommended Activities to enjoy on a Luxury Cottage Holiday in Connemara

However if history and tourist attractions are not part of your ideal luxury self-catering break then why not get stuck into the many activities available in this wonderful part of the country. One of the most popular outdoor pursuits is horse riding because the area is home to the Connemara pony, there is also fishing on our very rewarding lakes or sea , scuba diving off the coast and cycling the quiet roads and amazing cycle trails.
Add an extra touch of luxury...
If your luxury self-catering cottage just isnt enough luxury for you then why not enjoy a private boat tour of the amazing Connemara coast? Take a private romantic pony trek on the moorland and highlands or take it a step further and enjoy a fantastic helicopter tour of the National Park and witness a birds eye view of Ireland.
More Places of Interest and Tourist Attractions:
Other places to visit in Connemara include Aran Islands, Glengowla Mines, Galway Atlantaquaria, Rinville Park, Teach Synge, Oranmore Castle, Kylemore Abbey and Gardens, Clifden and Athenry Castle. Whether you plan to do lots of sightseeing or simply want to have a relaxing time, we hope you've found our information on Connemara helpful. Local tourist information offices can be an excellent resource when it comes to local attractions so why not pop in to one, once you have got settled in to your luxury cottage in Connemara.