60 Properties match your Search for Luxury Self-Catering with a Games Room.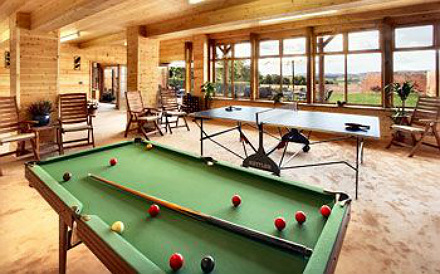 Looking for a luxury cottage rental with a games room for fun and entertainment? Choose from Cottage Gems' selection of luxurious self-catering holiday rentals with games rooms.

Games Rooms for Fun-Filled Luxury Holidays
For a fun holiday whatever the weather and whatever the time of year, renting a luxury cottage with a games room could be the ideal choice.

Luxurious cottages with games rooms are popular with families and children alike and is a great way of keeping a group of guests entertained. Staying in a luxury holiday rental is an enjoyable experience in itself but add to this the fun factor of having a games room and you and your party are sure to forge fond memories. Enjoy time together and some healthy competition.
Table Tennis, Pool, Snooker or Table Football?
Whatever games you love to play, look out for a luxury property with the facilities that best suit you. Self-catering games rooms come with all kinds of features, common inclusions include pool tables, table tennis tables and football tables. Many have been equipped with your entertainment and enjoyment in mind.

We hope you find the perfect high-quality luxury cottage property with a games room that best suits you on Cottage Gems.