9 Properties match your Search for Dog Friendly Log Cabins.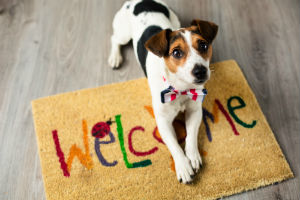 Log cabins are just great for that warm holiday feeling and are always a popular option when it comes to luxury self catering breaks. Many people want their dogs to have a getaway too and enjoy taking their pet away on a luxurious log cabin holiday.
For lots of people, their dog is an essential part of their family that they are not prepared to put in kennels or leave behind when they taking a luxury break. As luck would have it, the
luxury log cabins
listed below welcome dogs. Some owners of
luxury log cabins
welcome 1 dog, whereas others welcome 2 or more dogs. Some luxury lodges will require that dogs are kept within certain areas and some will make an additional pets charge. Check when making enquiries re arrangements for dogs as many log cabins accept dogs by arrangement only. For a truly special log cabin break, check out
log cabins by the coast.
Follow the links below to find: