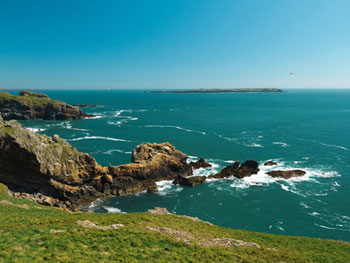 What Pembrokeshire Offers for Luxury Self-Catering Breaks

Pembrokeshire, found in the south of Wales is home to the Pembrokeshire Coast National Park, a stunning coastline that takes up about a third of the county itself. The park is the only National park that is almost entirely coastal and is a beautiful place for a luxury self-catering break. This beautiful coastline is home to some extensive wildlife, stunning views out to sea and spectacular beaches. The National Park also consists of the Preseli Mountains which sitting at 1,758 feet are technically mountains but are very rounded in nature and so feel more like hills. The Daugleddau estuary is also contained in the national park. This beautiful stretch of water is sometimes called the secret waterway. As well as the distinctive National Park, Pembrokeshire has a lot to offer a visitor to Wales, a breathtaking coastal path for walking enthusiasts, the most blue flag award winning beaches in the UK and 51 forts and castles. So what are you waiting for, why not book a luxury cottage break in Pembrokeshire today?
Top Tips on Food and Fine Dining in Pembrokeshire
Pembrokeshire could be considered a natural larder when it comes to the quality, taste and variety of its local produce. The great climate and fertile soils make excellent conditions for producing a wide range of foods including fresh vegetables and fruit, quality beef and lamb as well as delicious award winning dairy products. To get your hands on some of these fantastic goods, maybe so you can take advantage of your fantastic kitchen at your luxury cottage, you can visit many places across the county, including local farmers' markets where you can purchase directly from the producers. You will also find many food fairs and events held throughout Pembrokeshire during the year including the popular Pembrokeshire Fish Week. The award winning Haverfordwest Farmers Market is definitely a good place to start when looking to buy some local ingredients, priding itself on selling only local produce directly to customers, the market has gained FARMA Farmers Market of the year award three times. The market also holds its own events such as a Harvest Fayre, Christmas Market and Planting for spring events. The Fishguard farmers market held at Fishguard town hall is also well worth a visit with products such as honey, butter, cheese, breads, trout, herbs and sheepskins on offer.

If you would rather not be stuck in the kitchen whilst on your luxury cottage holiday in Pembrokeshire then there are also plenty of fantastic options for dining out. Some of the best restaurants in Pembrokeshire include Cwtch* which was actually the winner of the Best Restaurant in Wales award for 2011/2012, Morawelon Caf, Bar and Restaurant, The Refectory at St Davids, The Blue Ball Restaurant and The Grove fine dining restaurant in Narbeth. This is just a small selection from the large collection of restaurants available in Pembrokeshire, many with spectacular views out to sea and spectacular menus to match, there are also a large number of award winning eateries for you to enjoy. You can also find plenty of cafes, tea rooms and pubs for you to enjoy a light lunch, snack or afternoon tea.

Tourist Attractions and Places of Interest to Visit on a Luxury Cottage Break in Pembrokeshire
As well as fantastic food, Pembrokeshire can offer a lot in terms of exciting and interesting days out to enjoy whilst on a luxury cottage break. Boasting a wonderful history and 51 forts and castles it's no wonder that you will find a huge selection of historical places of interest for you to visit and learn more about Wales and Pembrokeshire. To start with, here are some of the beautiful castles in the area for you to enjoy, Carew Castle, Haverfordwest Castle, Pembroke Castle, Tenby Castle and Narbeth Castle. You can also find places such as St David's Bishop Palace, St Davids Cathedral, Tudor Merchants House, St Dogmaels Abbey and Lamphey Bishops Palace where you can discover some of the important history and heritage of Pembrokeshire. As there is such fertile soil and mild weather in Pembrokeshire not only do beautiful fruit and vegetable grow but also fantastic flora and fauna, to appreciate some of these beautiful plants why not visit Bro Meigan Gardens, Picton Castle Gardens, Hilton Court Gardens or Colby Woodland Garden.

However if you're looking for some family fun whilst on your Pembrokeshire get away there are also plenty of places to visit that will keep the kids happy. Why not take an exciting fast paced boat trip along the national park coast, take in the sea air and enjoy some general sight seeing and wildlife spotting on your luxury self-catering break? You could also take the kids along to Oakwood Theme park to burn off some energy and enjoy over 30 rides and attractions or visit Clerkenhill Adventure Farm where you can enjoy beautiful trails around the farm as well as adventure activities. Tenby Dinosaur Park, Manor House Wildlife Park and Dragon Reptiles may also be good places to visit if you have children who are interested in wildlife. Child friendly museums can also be found throughout Pembrokeshire such as the Motor Museum, The Gun Tower Museum and Scolton Manor Museum. As well as multitudes of attractions suitable for children there are also the spectacular blue flag award winning beaches which make a wonderful family fun filled day out and for some, are the best attraction that Pembrokeshire has to offer.



Recommended Activities for Luxury Self-Catering Holidays in Pembrokeshire
Some people choose to visit Pembrokeshire to get away from it all and take it easy. Others choose Pembrokeshire as their Welsh holiday location because of the beautiful landscapes, wonderful national park and stunning coastline, all of which make a perfect location for a huge variety of activities. So if youd rather get stuck into the great outdoors and enjoy some fresh welsh air then why not enjoy some of the great activities on offer in the country. From bird watching to kite surfing, Pembrokeshire can offer a diverse collection of exciting or relaxing activities that all take in the amazing countryside around you. Why not try kayaking, paragliding, rock climbing, wind surfing, sailing, diving or mountain biking. Home to one of the best outdoor leisure centres in Europe and some of the best environments for lots of adventurous outdoor pursuits Pembrokeshire has a lot to offer the thrill seeking visitor. Some of the principle surfing beaches in the county include, Newgale and White sands and Freshwater west which is usually the best but surfers need to be aware of the cross currents and undertows. With so much offer in Pembrokeshire, your hardest decision may be deciding how to spend your time on your luxury break.



Add an Extra Touch of Luxury to your Pembrokeshire Holiday...
With so many fantastic activities and places of interest to visit on your days in Pembrokeshire many would consider Pembrokeshire in itself a luxury location to visit in Wales. However if your luxury accommodation and the fantastic location isnt quite enough to make your holiday as luxurious as possible you could also enjoy a helicopter tour, hot air balloon ride, microlight or private pleasure craft flight over the beautiful national park and county, taking in all the sights and enjoying the area from a unique view point. There are also many health spas for you to visit if youre looking to spend a day being pampered and polished. Shopping is also brilliant in Pembrokeshire; get your hands on some luxurious hand made products so you can take a touch of Wales home with you.



More Tourist Attractions and Places of Interest in Pembrokeshire:
Pembrokeshire has so very much to offer visitors taking a luxury self-catering holiday here. Some of the attractions include Avondale Glass, Caldey Island, Dyfed Shire Horse Farm, Heatherton Activity Park, Ocean Lab, Pembrokeshire Candle Centre, Penlan Uchaf Gardens, Pirate Petes Adventure Play, Ramsey Island Voyages, Solva Woollen Mill and The Golden Sheaf Gallery, to name just a few. Whether you opt to rent a romantic luxury cottage for two or a pet friendly high quality log cabin, we hope you have a fantastic time in Pembrokeshire.