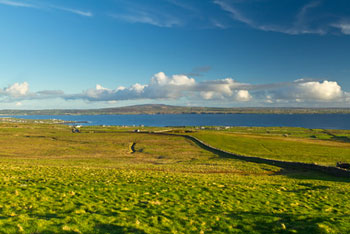 The Burren for Luxurious Self-Catering Holidays
The Burren National Park is located within the south eastern corner of the Burren and is around about 1500 hectares. This region is found within county Clare which is on the west coast of Ireland and is a beautiful place for a luxury self-catering holiday. The word Burren derives from the Irish word Boirrean meaning rocky place and this is very appropriate for this area of land. There is very little soil cover in the Burren and a huge extent of exposed limestone. On the other hand this exposed limestone is a very fertile rock due to the amount of nutrient rich herb and floral species that grow here. The Burren region is very well known for its landscape and flowers, if you choose to visit this area of Ireland in the summer months you will experience an amazing colourful diversity of flowering plants. It is also said to cover 1% of Irelands land surface and most of this land is specified as an Area of Conservation so that it stays protected and preserves the unusual habitats. This only makes it a more interesting place to visit for a self-catering cottage holiday in Ireland with a touch of luxury.
Top Tips on Food and Dining in the Burren
There are many delicacies which need to be tasted when visiting county Clare and the Burren on a luxury cottage holiday. One of the main foods which are produced here is smoked salmon, smoked in the Burren's very own smokehouse. The Burren Smokehouse situated in Lisdoonvarna is a great place to visit to not only learn about some of the traditional methods of smoking but also to get your hands on some delicious local produce such as jams, fruit wine from County Clare, seaweed products and locally produced dairy such as goat and sheep cheeses. The visitor centre also sells local crafts and gifts within its gourmet shop so is well worth a visit. You can also collect together some wonderful ingredients to cook up a storm in your luxury kitchen from one of the many farmers markets found throughout Ireland. All selling locally produced goods, speak to the stall owners and get information about the production of their foods straight from the horse's mouth.

If youd rather not spend your luxury holiday in the kitchen then County Clare and the Burren also have plenty of exciting and delicious restaurants, pubs and cafes for you to enjoy. An Fulacht Fia Restaurant situated in Ballyvaughan is a fantastic place to enjoy an evening meal due to its spectacular views and fine foods, there is also Sheedys Restaurant, Wild Honey Restaurant and Vaughans Bar and Barn. There are also some great cafes and coffee shops for you to grab a light meal, snack or afternoon tea during your days out and about. These places include Father Teds House in Kilnaboy, JDs Coffee house and Bistro, OBriens Sandwich Bar or Dysert ODea castle Tearooms.


Tourist Attractions and Places of Interest to Discover on a Luxury Cottage Break in the Burren
There are plenty of places to visit when on a luxury cottage holiday in the Burren. Once you have refuelled at one of the local tea rooms or coffee shops, you can then get to exploring the fantastic attractions and places of interest in the Burren and the surrounding area. Some of the great historical attractions to be found in this area include Aillwee Cave, Dysert ODea Castle and Cahermore Stone Fort. You may also enjoy a visit to Corcomroe Cistercian Abbey, Newtown Castle or Martello Tower. Within the Burren you can also discover the Michael Cusack Centre, Aillwee Cave and the Burren Birds of Prey and Educational Centre. Nature lovers and gardening enthusiasts may also enjoy the Ballyalla Lake, Ballyvoe Garden and Slieve Carran Nature reserve. Within the close surroundings of the Burren there are also some of the best preserved monuments such as Poulawack Cairn, Poulnabrone Dolmen and Cahercommaun Stone Fort, all of which are well worth a visit if youre interested in the heritage of Ireland. When it comes to family fun you can also find attractions in county Clare to suit all age groups. Places such as Doolin Cave, Lahinch Seaworld Leisure Centre or Activity Farm- the Farmyard in Corofin. You should be spoilt for choice when it comes to things to see and do whilst enjoying a luxury cottage stay in the Burren.


Activities to Enjoy on a Luxurious Cottage Holiday in the Burren
Sometimes the Burren receives visitors which have come to simply appreciate the countrysides beauty and take in as much as they can of the stunning landscape. To do this we recommend getting out and about, enjoy a gentle stroll or a brisk hike across some of the most amazing land in Ireland or take in the sights from your bike as you take one of the multiple routes around the National Park. You can also get stuck into some exciting activities such as scuba diving, surfing, and rock climbing, kayaking, boating, and fishing. For those thrill seekers visiting the Burren you can also spend your days enjoying unusual and exciting adventure activities with one of the adventure companies situated here. Enjoy raft building, canoeing, archery and much more on your luxury holiday in the Burren.

Add an Extra Touch of Luxury...
To add that extra sense of luxury to your trip and ensure that you leave with some fantastic memories why not enjoy a private helicopter tour of this beautiful area of Ireland. Leaving from Spanish point, you can spend one of your days either being taught how to fly your own helicopter or simply take an aerial tour of one of the most beautiful areas of the UK. There are also many opportunities for holiday makers to enjoy some pampering, the Lisdoonvarna Spa Wells is a famous Victorian spa complex and health centre offering sulphur baths, massage, wax treatments and saunas.

More Tourist Attractions and Places of Interest in the Burren:
The Burren promises some stunning natural attractions for visitors. There are a number of attractions in the Burren, to name a few: Loop Head Lighthouse, Moher Hill Open Farm, Mooghaun Fort, Quin Abbey, Scattery Island, Shannon Dolphin and Wildlife foundation, West Clare Railway, Atlantic Airventre Museum, Bunratty Castle, Burren Centre and Clare Museum. Which attractions you choose to visit will depend on your interests and preferences. Local tourist information centres can be good sources for information and local recommendations. Whether you book a romantic chalet for two or a large country house, we hope you have a fantastic stay in the Burren.