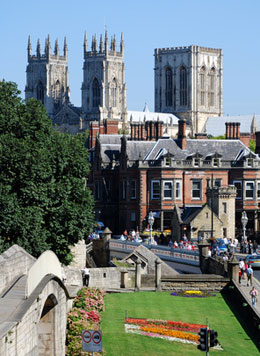 What York Offers for Luxury Self-Catering Breaks
York is described as a city of contrasts, where old meets new and the commonplace meets the unexpected. Well known for its spectacular architecture, cobbled streets and of course the famous York Minster, York makes a wonderful place to spend a romantic get away, family holiday or cultural get away in luxury self-catering accommodation. Experience all that York has to offer from exciting museums to festivals and attractions all from the comfort of your luxury accommodation. The city is renowned for its Viking, Roman and Medieval heritage and its wealth of attractions reflects this, especially when it comes to York Minster or Jorvik York. With tours, guided walks, boat trips, museums and stylish bars and cafes you will not only enjoy your holiday to York, youll want to come back next year!

Not only does the city have so many great experiences to offer its visitors but the surrounding countryside can also provide some fantastic memories from your holiday. Travel North for around an hour and you will find yourself amongst the beautiful sights of the North York Moors National Park. Take a trip North West of the city for around the same about of time and you will find yourself in the Yorkshire Dales National Park.
Top Tips on Food and Dining in York
The city of York happens to lie in the heart of one of the most important food producing regions in the England. Therefore the wonderful world class food and wine on offer in York is bound to give you a memorable experience of your evenings out in the city. From stylish sophisticated restaurants to a popular caf scene, York can keep you belly full and happy for the whole of your visit. Some of the great restaurants available for you to enjoy whilst on a luxury cottage break include the award winning Langtons Brasserie, Meltons Restaurant or Elements Restaurant and Bar. You can also take part in a unique dining experience whereby visitors can enjoy the delights of four menus in four restaurants in one night. Dine About Restaurant Tours give you a choice of 4 tours to tickle your taste buds as you travel York enjoying its culinary delights, ready to return to your favourite restaurant later in your holiday.

Some people enjoying a luxury self-catering cottage holiday may wish to make use of there fabulous accommodation and cook up a storm in the beautiful kitchen. If this is the case then you will need to collect together some fantastic locally produced ingredients and where better to find these wonderful foods than at the many farm shops, independent stores and of course farmers' markets. Taking place regularly in the city centre on Parliament Street you can experience an authentic York Farmers' market whereby farmers from within a 40 mile radius come to sell there wonderful produce.

Places of Interest and Tourist Attractions to Visit in York
After youve stocked up on your food for the week or decided on going out to dinner its time to think about the wonderful attractions and places of interest youd like to visit on your luxury break in York. As it has such a rich heritage and history it comes as no surprise that York boasts some beautiful historical attractions and sights, some of which include Castle Howard, City of York Walls, Ampleforth Abbey, Jorvik Viking Centre and the Roman Bath Public House. You can of course also visit the York Minster as well as Rievaulx Abbey and Barley Hall.

If none of those have burned off the kids energy then some family fun attractions such as The Web Adventure Park, York Maze or The Deep might just do the trick. For the nature loving visitors there is also plenty to get stuck into, Stillingfleet Lodge Gardens, Yorkshire Museum and Gardens and Breezy Knees Garden are great places to visit if the weather is good and you fancy a beautiful stroll. To make the most of the city you may wish to enjoy a guided tour or trail, Retrace York is a free rubbings trail designed to help you make the most of the city walls, there is also York Viking Walk and York Boat tours. For those visitors to York with thick skins and brave personas there is also the Ghost tours of York taking you to the forbidden tower on the walls, expect to laugh, scream and never forget.

Recommended Activities to Enjoy on a Luxury Self-Catering Break in York
Some visitors may prefer to get active rather than enjoy the culture and history of the city on their luxury cottage holiday. Getting out and about enjoying the outdoors and the surrounding areas of York city is a fantastic way to experience the county and enjoy some fresh air. Take a York on the Run tour and you could even mix history and your need to stay active together. There is also the North of England Activity centre where you can enjoy some adrenaline pumping off-roading, many popular walking and cycling trails and F1 Indoor Karting for thrill seeking visitors. Enjoy a game of golf, a fun filled swim at Waterworld or a slippery slide at the Ice Factor ice skating rink.

Add an extra touch of luxury to your York Luxury Break...
To add some more luxury and opulence to your holiday why not hire your own boat or yacht and spend the day on the water, sunbathe on the deck or enjoy a cool drink on the bank. You can also hire your own helicopter to take you soaring through the Yorkshire Skies, providing you with beautiful birds eye views of the wonderful National Parks. Take a private cooking lesson with a top chef in York city centre and enjoy some culinary treats as you go. You can also hire your own photographer to take your holiday snaps for you; York Phototrek will take you on a one hour fun filled tour of the city, snapping up those wonderful moments as you go along.

More Places of Interest and Tourist Attractions to Discover in and near York:
There are lots of wonderful places to discover in or near York. Some attrations in and near York include DIG, Sutton Park, York Barbican Centre, Chocolate- Yorks Sweet story, and York Cold war bunker, Yorkshire Museum of Farming, York Dungeon, The Wheel of York, Air Museum, York Brewery, York Castle Museum, Grand Opera House and the National Railway Museum. However you opt to spend your time on your luxury cottage holiday in York, have an amazing time.