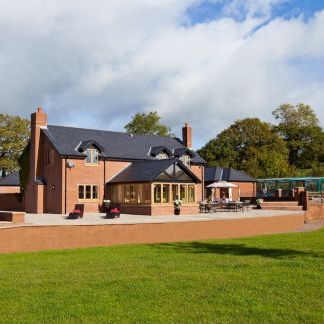 Built in 2004, this stunning property is wonderfully located in the Devon countryside and has a vast array of luxurious amenities including a heated indoor swimming pool and games room. The games room comes complete with full size pool table, air hockey table and Nintendo Wii. Wayside house also has a spacious living room with several sofas and modern entertainment equipment. There is a large kitchen dining room with wooden work surfaces and door fronts, giving it real character. Off the kitchen is a utility room, complete with tumble dryer and a hoover system that requires no bag or hoover to 'lug' around. Also off the kitchen is a spectacular and spacious conservatory with amazing views over the country landscape.
The house has flat screen televisions, with Sky connectivity, in most rooms as well as Wifi for internet access. Outside there is an outdoor childrens play area with climbing frame and trampoline, there is also a patio with BBQ area.
Show availability and pricing information
Facilities:
Parking
Garden

Towels & Bedding:
Bed linen provided
Towels provided

Special Facilities:
Swimming pool
Games room
Internet access

Amenities:
TV
Sky TV
Video or DVD
Microwave
Coffee Maker
Dishwasher
Freezer
Bath
Shower
Central heating
Laundry facilities

Cullompton
Set within Mid Devon is the town of Cullompton. With amazing countryside landscapes surrounding Cullompton it is a fine choice of destination for a luxury self-catering holiday.