7 Properties match your Search for Luxury Accommodation with Games Rooms in Wales.
Cottage Gems Self-Catering Rentals with Games Room (Wales)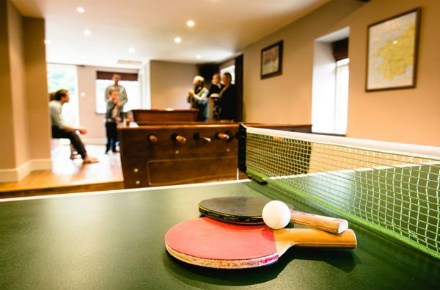 Enjoy browsing Cottage Gems luxury cottages with games rooms in Wales.
Wales is a beautiful country renowned for its stunning countryside and landscape. However, it is not so well known for its blistering heat and warm. The weather can be unpredictable. Not to fear! Thanks to the great range of facilities and features available through Cottage Gems luxury self-catering listings, you and your family can have a happy and memorable holiday even if there are some rainy days.
A games room may be just what you and your family/friends need to guarantee a good time, whatever the weather. Excellent for family holidays, games rooms provide fun for all the family or great entertainment for the kids while you enjoy some peace and quiet. Boasting a variety of activities and games you are bound to find a property with the best facilities for your group, whether that's a snooker and football table or computer and board games. Games rooms can also be great entertainment for hen/stag parties and is sure way to have a laugh with friends. A self-catering holiday is all about having the freedom and space to enjoy yourselves and spend time with friend or family and a games rooms can bring just that.
Click on the pictures below to find out about the facilities that each of these luxury cottages offer with their games rooms.