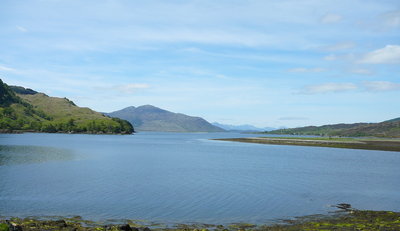 There are a number of popular holiday destinations in Scotland. Scotland's landscapes are largely mountainous and provide visitors with breathtaking views and an idyllic setting for a luxury self-catering break. The most visited city in Scotland is Edinburgh which offers beautiful architecture and plenty of charm and character. Other popular areas include the
Scottish National Parks
, the Highlands and the Inner and Outer Hebrides. With so many stunning regions to choose from, browse our guides below to help you find the perfect location for your luxury holiday in Scotland.
Guides and Inspiration for Scotland's Popular Areas for Luxury Self-Catering Breaks:
Edinburgh - Scotland's capital city is home to an impressive castle which sits high on a rock above the city boasting panoramic views of the city below. Edinburgh has two UNESCO recognised areas, the old town and the new town with fascinating historical architecture. Edinburgh is by and large an impressive city with a number of high end restaurants and bars. There are also of course theatres and art galleries. Edinburgh is a delight to visit on a luxury break.
Highlands - The Highlands of Scotland are known for offering unspoilt stunning natural beauty. In the Highlands you can come across glens, castles, lochs and mountains. Look out for eagles, stags and even do a spot of dolphin watching near Inverness. Head for the coast and you can also find quiet beaches, pretty villages and more. Few people live in the Highlands of Scotland making this area fascinating to nature lovers and attractive to those looking for a peaceful luxury break far from the madding crowd.
Cairngorms - the Cairngorms are a Scottish National Park, largely in the Highlands but also extending in to parts of Aberdeenshire. Popular in the winter for skiing and attracting many for walks and hikes in summer, there are a number of mountains in the Cairngorms. In fact, the Cairngorms are home to most of Scotland's highest mountains.
Loch Lomond - Loch Lomond is located not too far from the lively city of Glasgow but is a world away in terms of atmosphere. Loch Lomond is a picturesque area which many like to visit for boating but also for the great views. Loch Lomond is simply beautiful
The Inner and Outer Hebrides- Found off the west coast of Scotland, these unique islands offer stunning coastal scenery and an abundance of wildlife. A great choice of destination for those looking for a peaceful break in a tranquil setting.
Top Visitor Attractions in Scotland:
Edinburgh Castle- Dating back to the 11th Century, Edinburgh Castle is a must-see attraction during your time in Scotland. The castle is set on top of a mountain, creating an impressive sight from the city below.
Glasgow Cathedral- Built in the 13th Century, this cathedral boasts a great display of stained-glass windows. The beautiful architecture here combined with the history and heritage makes it well worth a visit.
Loch Lomond- This loch is one of the largest lochs/lakes in Britain and provides breath-taking views and wonderful scenery. The loch is part of Loch Lomond and The Trossachs National Park and is a one of Scotland's finest natural attractions.
Blair Drummond Park- Found under an hour's drive from both Glasgow and Edinburgh, this animal reserve and pet farm is a great attraction for animal lovers.
Ben Nevis- The highest mountain in the UK attracts more than 100,000 hikers a year and offers stunning mountainous views and landscapes.