Following the coronavirus outbreak, staying safe is at the forefront of many people's minds. This year increasingly people are choosing to holiday in good old Britain and deciding that for summer 2020 at least there really is no place like home and demand is therefore high for UK cottage breaks.

Holiday homes may seem a more reassuring option than hotels, with generally less frequent changeovers of guests (in summer time many holiday homes are only available for weekly rentals, although some welcome short break bookings), and one night stays are rarely available.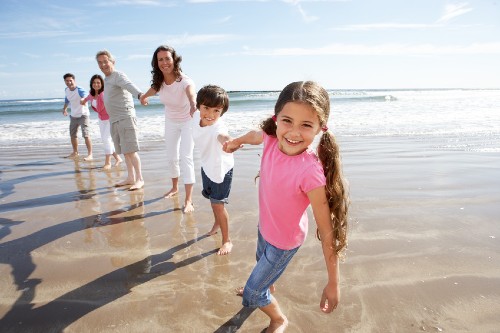 In terms of holiday destinations, particularly in troubled times, there really there is no place like home, and there are so many amazing and beautiful places to discover in the UK. Taking a break in this country can make a lot of sense (particularly for those with dogs who want to bring their pet pooches along) and for those with families who just want to jump in the car and go, and avoid all the stress of airports with masks and the associated worries.
In these strange times of coronavirus, we've put together some top tips to help you plan a safe and happy holiday.
Top Tips for a Safe and Happy Holiday
Look out for Notices re being Covid Ready and Covid Safe

Visit Britain has launched a 'We're good to go badge for cottages to show that they are meeting industry standards in staying Covid safe. Most cottage owners and agency websites will state if they're meeting this standard or if they haven't signed up for this, their website should state what action they have taken to ensure that their property is Covid safe.
Have an Action Plan to help you feel Healthy and Happy whilst staying in a Holiday Home

• One big advantage of renting a holiday home is that you get to benefit from a home from home environment which you aren't having to share with other guests outside of your family group or bubble. It can be useful to do a checklist of things to do to help you feel safe and happy on holiday
Cleaning of the Holiday Home

• If the owner or agency doesn't have a notice re being Covid ready on their website, contact them and ask them for details of the cleaning regime in place. During these strange times it's perfectly ok to ask for these reassurances and most owners and agencies will be striving to ensure you have a happy and healthy holiday.

Ask for Reassurances on the Cleaning of Bed Linen and Towels

• It's advisable to ask for assurances that all bed linen and towels are being washed at highest possible temperatures. Or you may even prefer in these times to bring your own to use during your break.
Additional Steps you can personally take to help you stay safe

• To make you feel happy and safe, you may want to do some extra sanitisation of high touch objects and areas such as TV controls, door handles, light switches etc when staying in a holiday home. Owners should have cleaned and sanitised these in any case so it's usually best to speak to the cottage owner or agency though before using any sanitising wipes and to check that any products you plan to use are suitable for the holiday home and won't cause any damage.
• It is perfectly reasonable to bring your own bedding and towels with you to use during this coronavirus outbreak. Again it's usually advisable to let the owner or agency know if you plan to do this.
• It's advisable that you pack hand sanitiser and soaps and to practice regular handwashing throughout your holiday.
• Follow government advice on social distancing when planning and enjoying a holiday.
We hope you've found our hints and tips on how to have a happy holiday helpful and wherever you want to holiday in Britain we hope you find the perfect luxury holiday cottage for you.